A few weeks ago, I purchased a new paperback copy of
Alexandre Dumas
's
The Count of Monte

Cristo
, a book I read and read and read as a kid, and added it to the stack of books. Well, it has moved from the "to be read" pile to the "in progress" pile, and I'm wondering why I waited so long to get my own copy. Why keep checking it out from the library when I could have added it to my collection decades ago? But if I had, it wouldn't seem so fresh and intriguing now, because I probably would have read the book into oblivion, as has been the fate of a few other volumes whose bindings are dodgy and their
dust jackets
tattered. They're the Velveteen Rabbits of my literary world.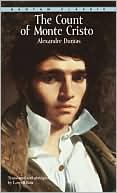 This particular translation of
The Count
is smooth and clean, easy to read, the work of Lowell Blair, who also translated several other classics (
Madame Bovary
by Gustave Flaubert,
From the Earth to the Moon
by Jules Verne,
The Phantom of the Opera
by Gaston Leroux, and more). Though abridged, it still retains all the necessary elements of the story, and -- I confess -- a skilled abridgment can result in a tighter, better novel.
There are several books featuring Monte Cristo and family. Several years ago, I purchased an early 1900s hardbound copy of
Monte Cristo's Daughter
, not written by Dumas but by a prolific American writer,
Edmund Flagg
. His name does not appear on that edition of the book, so the reader is forgiven for assuming that Dumas himself wrote it. I attempted to read it but was quickly bored; perhaps the story deserves another go, but my early reaction was that the translation could have been cleaned up to make a smoother reading experience. How was I to know it was written that way on purpose, and in English?
Translators have my respect. They take the words of other writers and interpret them for other readers, and it's a tricky task to remain true to author intent and style while presenting a clear, comprehensible, and interesting work that readers will enjoy in their own language.
A brief glimpse at the difficulties translators must overcome can be read
here
, at a page describing the difference in the number of verbs available in English as opposed to Spanish, and how readers are guided
specifically
in one language but expected to
infer
in another.
The Nautical Chart
by
Arturo Perez-

Reverte
was translated into English by
Margaret Sayers

Peden
, a well-known translator whose work that I have read so far does not muddle the text (other books she has translated can be found
here
). In the translation of Perez-
Reverte's
novel, the English sings; it is my understanding that the Spanish sings, too.
Peden also translated some of Isabel Allende's work, none of which I have read, though I am told I must. I did try
Gabriel Garcia Marquez
's
Love in the Time of Cholera
, but just couldn't push past the first chapter or two. I might try his work again, through a different book.
I wish my high school Spanish had stuck around, so I could read some novels in their original language. However, I recall the challenge and the fun of translating pages of
Don Quixote
into English, an exercise reserved for advanced students. It's hard to believe I was ever part of that group.
If you have a favorite translation of a book, pass it along.
A previous post concerning
The Count of Monte

Cristo
, among other books -- how they open, and how they end -- can be found
here
.